My Art Journey
Apr 23, 2022
By Zhuangfang NaNa Yi
My art journey started in 2013 in a very unconventional way that I did not have any former training and was mostly self-taught. I used art to fill my hours and days and to bring a sense of purpose.
I left my academic job at the Chinese Academy of Sciences and moved to the US to follow my husband, who got into medical school in 2013. In the beginning, I tried to apply for hundreds of academics jobs in the states. I now know that I would never be qualified enough to get one. But back then, that's the only possible "job" I'd know if I should get, and if I did that, I was not good enough.
The first two years in the states were the most challenging/darkest two years of my life. I did not have a single friend besides my husband, who was trying hard to navigate medical school. I could not talk to my family much because of 12/13 hours time differences. I did not know how to drive, and the US was the most foreign land at that time. On top of that, I know that I will never get a job doing research that I love. I felt like I threw myself into a quarantine/isolation that I would never see the end.
We all need a purpose in the darkest days of our life. Art and programming gave me that, which are the first two things I started back then. My days suddenly had a sense of purpose that I woke up every morning because I needed to figure something out or even solve problems. Color, texture, and pattern are very therapeutic. Seeing myself transforming through painting and drawing brings a sense of satisfaction and fulfillment. I experienced why art as therapy. It brings 1) the most rewarding experience in a short time; 2) it rewards people who are persistent or have grits in the long run; 3) our brain also crave colors and pattern; 4) the creative process itself is very satisfying.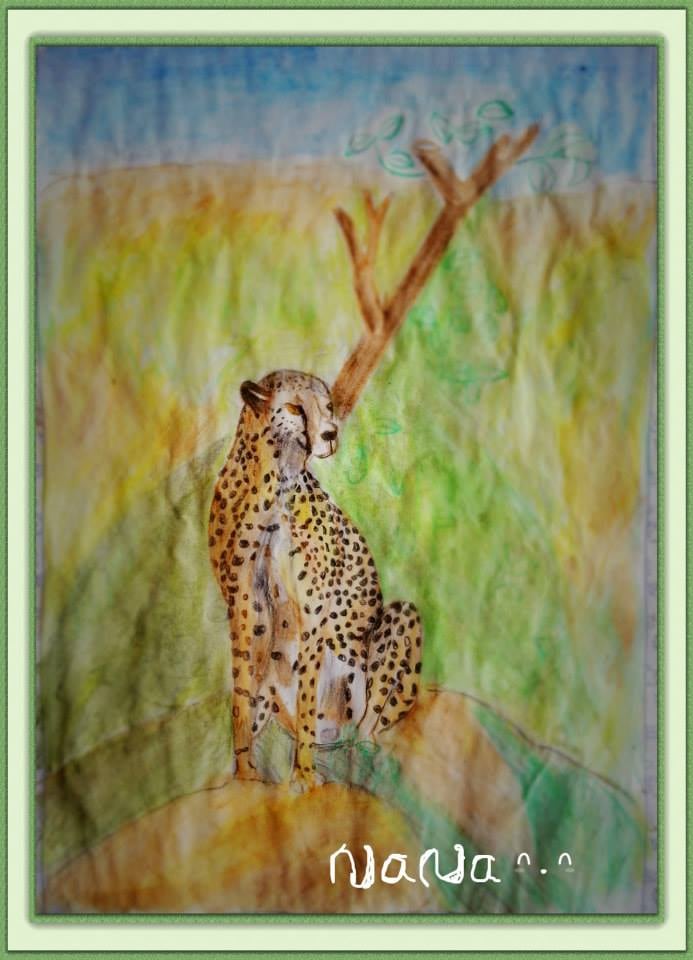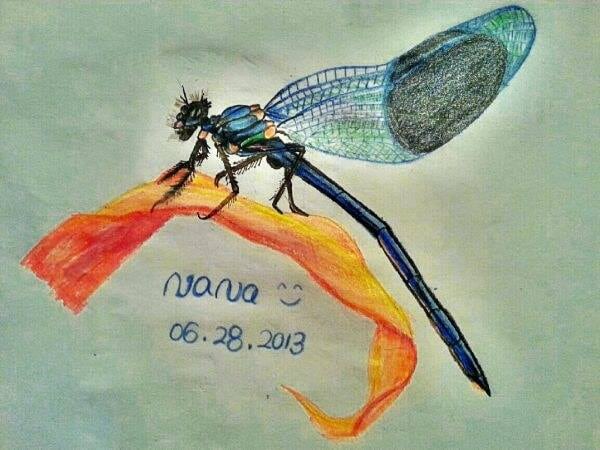 These are the very first two paintings/drawings I did. I painted a dragonfly and a cheetah from two photos I took in my first trip to Africa in 2012.
Art also brought a sense of connection to my life as well. My whole family is "artists". My maternal grandma is a Tai Lue Zanha (singer). She could not read but she has an amazing memory that she would memory a whole book of stories/poets when she sang in Dai/Tai ceremonies. She was well-known at her time. My prenatal grandma was a Tai dancer. My great-grandpa and uncles are painters who painted walls of walls of Buddhism stories in Tai temples, which is probably the highest honor a painter could have. My little brother seemed to know how to draw very accurately since he can hold a pencil. He is now a full-stack artist who is doing the wood carving, carpenter, tattooing, and designing and building houses. I can talk about "art" and follow my brother and uncles' work very closely and feel the deepest appreciation of theirs. Ethnic minorities (I am Tai Lue/Dai in China and am not Han Chinese)'s caricatures are known as colorful and vivid in terms of telling their daily life/ cultures through simple drawings and paintings. By using bold colors and textures I feel like I am connected to my roots.
I am a full-time machine learning engineer in sustainable agriculture nowadays. I only have time to paint over the weekend, and I do mostly small paintings during my son's daily naps. My art journey will continue with my online art business www.geoyi.art after 9 years of experimental paintings/drawings. I appreciate many of you have been supportive of my art journey, and you've not have known how much that means to me.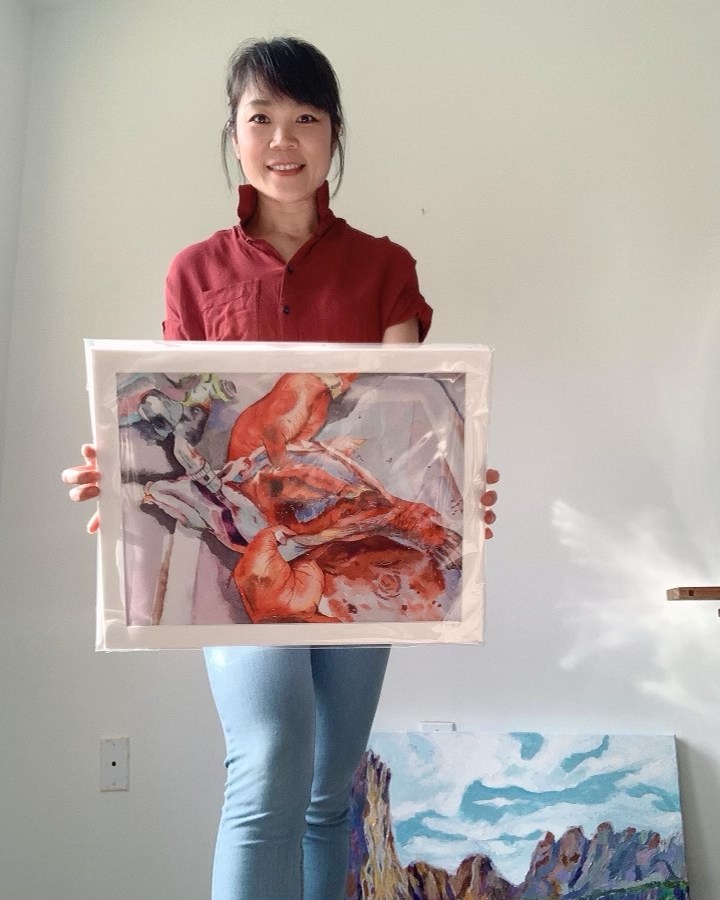 Me with two of my prints from Bay Photo Lab